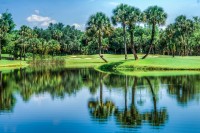 Long Business Description
Banyan Golf Club in West Palm Beach, Florida is one of the most impressive golf clubs in the area. Designed by legendary golf architect Joe Lee, Banyan stands out amongst other West Palm Beach golf clubs due to its unique layout and design features. After seeing it for the first time, Lee was quoted as saying "This place is majestic! All you have to do is listen and the land will tell you what to do".
His inspired vision resulted in elevation changes that rarely exist in South Florida. The 13th tee has a 36-foot peak which is perhaps the highest elevation found anywhere in this region. Banyan Golf Club remains among Florida's finest courses and a tremendous draw for local and visiting golfers alike.