Private Golf Courses in West Palm Beach FL
West Palm Beach is a city located in Palm Beach County, Florida. Known for its sunny weather and beautiful beaches, the city is a popular tourist destination. Private golf courses in West Palm Beach are some of the most prestigious private golf courses in the country.
Dozens of private golf courses in West Palm Beach and Palm Beach County in Florida provide world class golfing experiences in beautiful settings with high-class amenities. Whether you are looking for a challenging course that will test your skills, or a scenic one where you can enjoy ocean or lake views before returning to the clubhouse for dinner and drinks, West Palm Beach Golf has it all!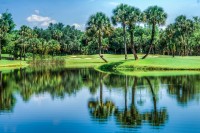 Long Business Description
Banyan Golf Club in West Palm Beach, Florida is one of the most impressive golf clubs in the area. Designed by legendary golf architect Joe Lee, Banyan stands out amongst other West Palm Beach golf clubs due to its unique layout and design features. After seeing it for the first time, Lee was quoted as saying "This place is majestic! All you have to do is listen and the land will tell you what to do".
His inspired vision resulted in elevation changes that rarely exist in South Florida. The 13th tee has a 36-foot peak which is perhaps the highest elevation found anywhere in this region. Banyan Golf Club remains among Florida's finest courses and a tremendous draw for local and visiting golfers alike.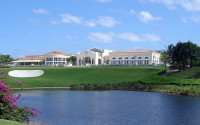 Long Business Description
The Championship Course, opened in 1999 and gained international recognition in its early tenure. It's been rated #1 golf course in the state of Florida by Florida Golf Magazine and is a top 50 course in both Golf Digest and Golf Magazine.
The Championship course is a par 72 layout, playing from the Championship tee's measuring 7,326 yards and 6,973 yards from the membership back tees. There are additional sets of tee's ranging from 6,666 yards to 5,314 yards allowing the course to be playable yet challenging. The elevation of the 18th tee is 58 feet above sea-level, making Trump International the highest elevated course in this ultra-flat state.
As host of the LPGA Championship for 8 years, the Championship Course is the perfect place to host a golf tournament, bring potential clients, or just play a round on a course that stands out as the country's elite. At Trump International Golf Club, a round of golf will never be just a round of golf.